Week 30.March - 12. April 2020
Freitag, 3. April 2020
---
PIASA
Charity Auction
Joining forces to support health workers in France
Participate in online Charity Auction
Friday 3 – Sunday 5 April 2020
Joining forces to support health workers in France
Ouverture de la vente : vendredi 3 avril à 18.00
Fin de la vente : dimanche 5 avril à 18.00
118 rue du faubourg
Saint-Honoré 75008 Paris
#ProtegeTonSoignant
https://www.piasa.fr/en/news/protege-ton-soignant
MUSEUM FÜR FOTOGRAFIE, BERLIN
WOLFGANG SCHULZ
UND DIE FOTOSZENE UM 1980

The Metropolitan Museum of Art, New York
MetFridays: Virtual Screening
The Mother of Us All
World Premiere Screening
David Zwirner
Platform: New York Is Now Live
KÖNIG GALERIE | CHAPEL
JEPPE HEIN
OPENING: 4 APRIL 2020
22 FEBRUARY – 5 APRIL 2020
ST. AGNES | CHAPEL
ALEXANDRINENSTR. 118–121
10969 BERLIN
https://www.koeniggalerie.com/exhibitions/27263/chapel/
White Cube
---
Aquazoo Löbbecke Museum
Black Ocean
Ein virtueller Besuch ist jederzeit möglich!
Monday, 6. April 2020
---
Hamburger Kunsthalle stellt 1000 Kunstwerke
zu RAFFAEL online
Schindler House
AMEND
Exhibit and Performance Series
by Chris Emile
Friday,
10. April 2020
---

10am Series | 13.3.–19.4.2020
ELMGREEN & DRAGSET | SALEROOM
MARTIN EDER | WATERCOLOURS
GREGOR HILDEBRANDT | SALEROOM
MICHAEL SAILSTORFER | SALEROOM
ANDREAS SCHMITTEN | SALEROOM
Alexandrinenstr. 118–121, 10969 Berlin
https://www.koeniggalerie.com/exhibitions/28461/10am-series/
---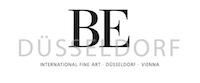 Beck & Eggeling
JOACHIM BROHM. LESS AND MORE
KanyaKage
Art Space | Contemporary Art
Amélie Esterházy
Tel Aviv Museum of Art.
BIDUD Residency
Dear A.S.A/P, 2019
A video excerpt by Michal Helfman
Thursday, 2. April 2020

and the "Edition of X"
Cinematography: Asi Oren
Editing: Ayelet Gil
Voice over: Olivia Hild & Chaya Hazan
https://www.bidudresidency.com/
Sommer Contemporary Art Tel Aviv
Online Special: Three Films By Guy Ben-Ner
Apr 02 – Apr 04, 2020
https://sommergallery.com/gallery-news/online-special-three-films-by-guy-ben-ner/

KÜNSTLERHAUS BETHANIEN
VISIT US ONLINE!
Ein erster Überblick / A first overview
LAURYN YOUDEN Kanada
Galerie Boisserée
ALEX KATZ
TIMELESS" - Selected prints,
works on paper and cutouts

10am Series | 13.3.–19.4.2020
ELMGREEN & DRAGSET | SALEROOM
MARTIN EDER | WATERCOLOURS
GREGOR HILDEBRANDT | SALEROOM
MICHAEL SAILSTORFER | SALEROOM
ANDREAS SCHMITTEN | SALEROOM
Alexandrinenstr. 118–121, 10969 Berlin
https://www.koeniggalerie.com/exhibitions/28461/10am-series/
DAM Gallery Berlin
Eelco Brand – Forward in a Circle

CFA archive:
MAX BECKMANN, CECILY BROWN,
ELLA KRUGLYANSKAYA & DANA SCHUTZ
8 JUN – 13 JUL 2019
https://cfa-berlin.de/exhibitions/20431/max-beckmann-im-dialog-cecily-brown-ella-kruglyanskaya-dana-schutz/about/